Hell and Mr. Fudge
One of the things I love about my job is getting to work with some amazing talent. Last week I had the pleasure of working with Mackenzie Astin (Love and War, Last Days of Disco) – son of the fabulous Patty Dike an actor/writer/director John Astin and brother of Sean Astin (Rudy and Lord of The Rings fame). An artist in his own right, Mackenzie has countless film and television roles to his credit.
As the advertising art director for a project, it is my job to direct and supervise any and all photo shoots to ensure that we get the photos we need. After all, there is nothing worse than paying for everyone to show up, then when you look at all the images, you think to yourself, "Oh, no…I didn't get what I need."
I had approved comps and design of several movie posters for an independent feature film called, Hell and Mr. Fudge – directed by Jeff Wood and produced by LLT Productions. Based on a true and personal story, Hell and Mr. Fudge is centered around the question, "Does hell exist?" The story is about Edward Fudge, a man of faith (who is still alive and well) and his journey for the truth.
Despite some religious affiliations, the film takes a philosophical approach to the subject, rather than a religious one. It is thoughtfully constructed and well-directed. It is an interesting story about one man's simple, yet complicated quest and I can't wait to see it again with the music and everything!
Mackenzie was easy and great to work with (thank you, Mack) and so was the photographer, Jim Paliungas of Palimor Studios.com The shoot went quickly, I got what we needed, and then some, and we were off.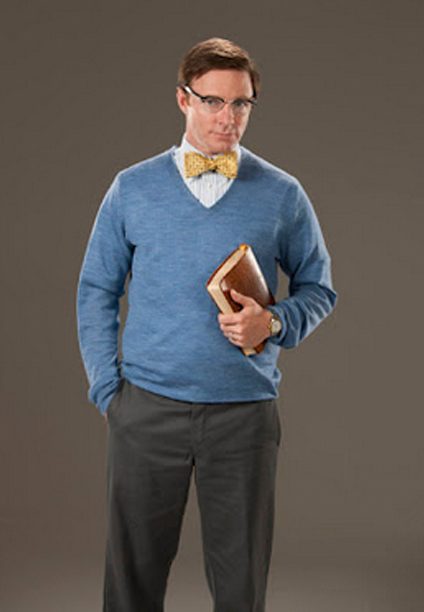 Mackenzie Astin as Edward Fudge in Hell and Mr. Fudge, RELEASED IN 2012.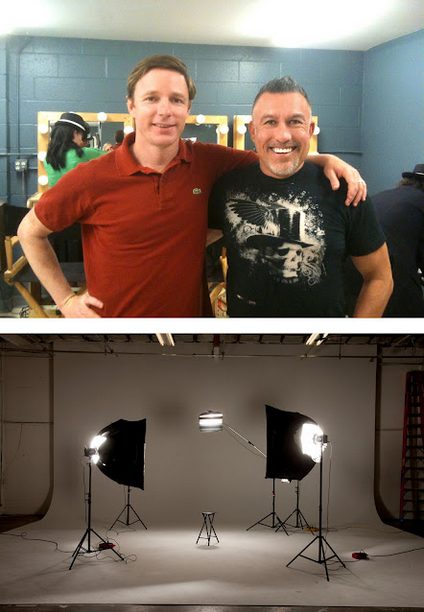 (Top) Mackenzie was nice enough to pose for a photo with me before getting into costume for the shoot. (Bottom) The studio set up by Jim Paliungas.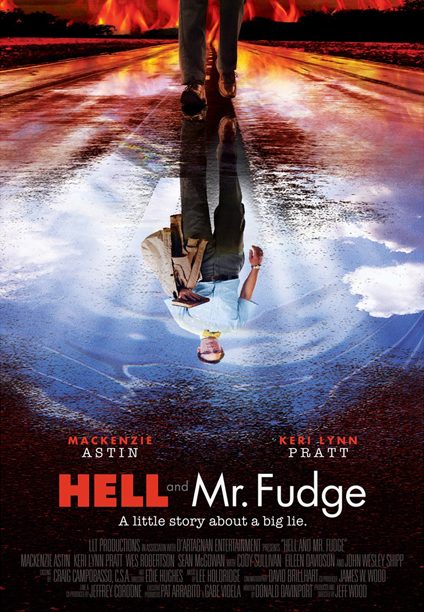 The Final Movie Poster
The clients, Jeff Wood and Pat Arrabito, were terrific! The director, Jeff Wood, took the time to explore concepts with me – some that worked, some that did not – but we ended up with strong concepts and cool artwork in the end. And, I got to shoot Mackenzie the way I needed him to be, in costume and character, which is the right way to create the key art. (Thank you, Jeff).
Joseph Rey, Advertising Art Director
_____________
My experience photographing Mackenzie Astin for Hell and Mr. Fudge was truly one of the highlights of my work in commercial film. I've worked with Producer/ Director Jeff Wood on many occasions. He was incredibly brilliant yet always remained humble and was a pure joy to work with. Actor Mackenzie Astin, as Jospeh Rey puts it, is truly "An artist in his own right." He totally understood the vision of what we were creating, followed directions well, and we got what we needed for the movie promo quickly. Joseph Rey of JR/AD-LA is witty, sharp, very clear in his directing and his easy-going nature helped to make the entire session a fun experience. Thank you, Jeff Wood, Mackenzie Astin, Joseph Rey and the entire production crew!"
Jim Paliungas, M. Photog., Palimor Studios